CATIA V5 NC Machining Verification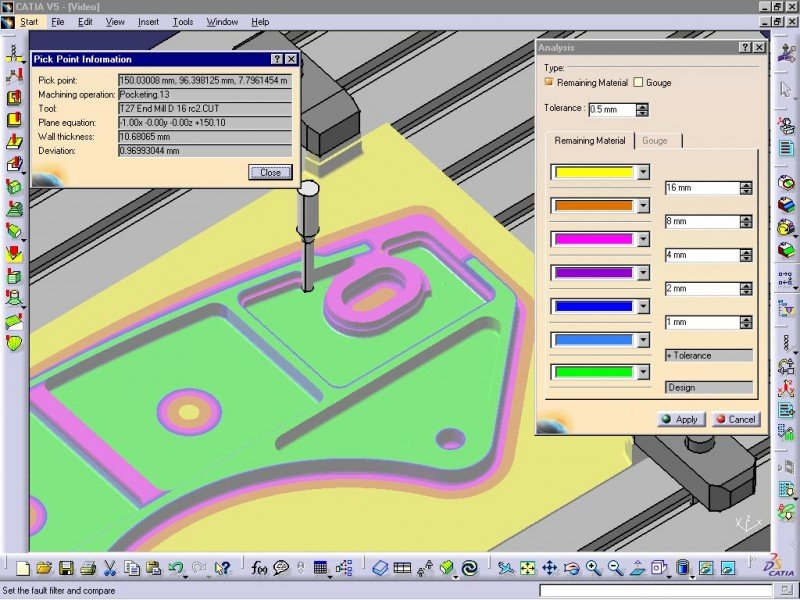 Interested in this solution?

Overview
Companies need to optimize machine tool usage and need to produce complex 5X parts right the first time. NC programmers need to virtually validate their program and to be sure that the part will be machined with the right accuracy, avoiding any collision during the machining.
The CATIA – Machining Verification option offers advanced tool path verification capabilities for multi-axis machining. It makes it possible to further validate NC programs with the best accuracy thanks to material removal and geometric analyses. In addition, NC programmers are able to graphically visualize collisions between tool assembly and machining set to fully ensure a collision-free tool path.
Benefits
• Detailed analysis of the machined part
• Multi-axis analysis of remaining material
• Ensured full collision-free tool path between tool assembly and machining set up
Capabilities
• Advanced verification capabilities for 5-axis positioning and machining
• Graphical comparison of machined part and design part
• Graphical visualization of clashes between tool / tool holder / shank and part or fixtures
• Measurement of machined parts, including pick-point analysis
• Machining times and collision details reports generation
• ISO-code tool path validation (Machine Tool Simulation option needed)
Workbenches
This option contains:
CATIA – NC Manufacturing Verification 2
CATIA – NC Manufacturing Review 2