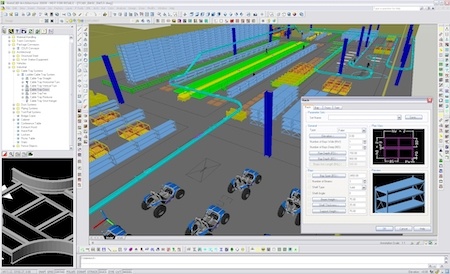 Have you heard of CATIA? If not, your organization may be neglecting an innovative, high-tech solution to engineering, design, project management and manufacturing.
CATIA is one of the most impressive Computer-Aided Design and Manufacturing solutions that we at 4D Systems provide for customers across a range of industries. This software suite streamlines design and manufacturing throughout a product's lifecycle, providing faster, more efficient workflows for engineers and manufacturers.
If your company does not currently utilize CATIA, you may be missing out on a solution that could cut your engineering design process almost in half. Read on to learn more about this state-of-the-art software and twelve reasons why customers prefer it over other engineering programs.
What Is CATIA?
CATIA, which stands for "computer-aided three-dimensional interactive application," is a software suite of computer-aided design, manufacturing, and engineering tools. This software, created by Dassault Systèmes, is a popular solution throughout the manufacturing industries, and especially among Original Equipment Manufacturers, to streamline design, analysis, and project management.
CATIA supports several stages of product development, ranging from conceptualization and design to engineering and manufacturing. The software uses innovative technology to model any object or product within a lifelike context.
This software also enables close collaboration among designers and stakeholders through its 3DEXPERIENCE platform. This platform allows multiple project members to view 3D models and make changes to designs, creating a comprehensive understanding of projects among technical and non-technical departments, such as marketing.
Professionals across a range of industries utilize CATIA every day, including:
Aerospace
Architecture
Automotive
Construction
Consumer packaged goods
Defense
Industrial equipment
Petroleum
Plant design
Process power
CATIA is undoubtedly one of the most popular, widely used software suites in the technical field.
What Is CATIA V5?
Dassault Systèmes has continually released new versions of CATIA since its initial launch in 1977. Today, the most widely used version of CATIA is CATIA V5. However, Dassault Systèmes has since released CATIA V6, which offers more updated features and innovation than V5.
At 4D Systems, we can help your business determine the optimal CATIA version and configuration for your needs.
What Is CATIA Used For?
CATIA has a broad range of uses within design and product development. This comprehensive, intensive software bundle comes in over 50 configurations, each with its own industry-specific features and functionalities.
Organizations typically utilize CATIA for any combination of the following uses:
Design: Perhaps the most common and widely recognized use of CATIA is product design. The program supports parametric and non-parametric 3D model design and incorporates a wide range of industry-specific tools to streamline the conceptualization and design processes. The program also allows designers to import 2D sketches and render them in a three-dimensional space without needing to draw them again.
Active collaboration: CATIA allows for active collaboration among several professionals within an organization. The program supports real-time changes that enable professionals to collaborate virtually and work together on modeling and design.
Modeling and simulation: CATIA supports 3D digital mockups, allowing designers to visualize and make changes to products within a three-dimensional space. Modeling and simulating designs in this way enables real-life analysis before beginning physical design manufacturing.
Data management: CATIA 3DEXPERIENCE enables comprehensive product data management by storing design data in the CATIA database. Users never need to worry about crashes or data loss with the CATIA suite.
CATIA provides a comprehensive solution for every step of a product's lifecycle, optimizing efficiency, design, and collaboration in the manufacturing workplace.
How Much Does CATIA Cost?
The exact price your company will pay for the CATIA software suite depends on which package or configuration you purchase and your license type.
You can either purchase a standard configuration, which includes a preset list of products and features, or a custom configuration containing a-la-carte style products. Purchasing add-on products for your software package will also contribute to your overall price.
CATIA is available as either node-locked or concurrent licensing at no additional cost to the end customer.  Node-locked licensing enables licensing on one machine with a single user, while concurrent licensing allows for multi-device installation and usage. At the time of purchase, talk to your contact at 4D Systems about how you want your licenses to be configured and we'll help you install and set up users at no cost.
Finally, your organization will need to pay for a licensing term that allows you to utilize the software for a specified time. Dassault Systèmes offers licenses spanning one quarter, one year, two years, and three years.
With each of these factors in mind, you can expect your initial CATIA purchase to cost somewhere between $5,000 and $30,000. We can break down the exact CATIA solution  costs for your organization and determine a configuration that provides the most comprehensive solutions for your team.
12 Reasons Why Customers Prefer CATIA Over Other Software
Numerous  Computer-Aided Design and Manufacturing (CAD/ CAM) programs are available today. However, CATIA is undoubtedly one of the most popular software suites on the market. Here are twelve reasons why customers across various industries prefer CATIA over other programs.
1. CATIA Streamlines Design, Analysis, and Data Management of New Products
CATIA's comprehensive suite of 3D design, computer-aided engineering (CAE), computer-aided design (CAD), Computer-Aided Manufacturing (CAM) and Product Lifecycle Management (PLM) solutions allow for a faster, more efficient workflow. Specifically, the software streamlines design, analysis, and data management when conceptualizing and manufacturing new products.
CATIA's highly technical design capabilities make it a popular program among manufacturing industries and Original Equipment Manufacturers (OEMs).
2. CATIA Can Handle Larger Designs
CATIA has both the physical capacity and broad toolset necessary to handle large-scale designs for larger products and assemblies. The software's interface is fast and robust, creating optimal performance for the most complex, extensive design projects.
CATIA's powerful design tools also allow for more efficient large-scale design, enabling your technical and non-technical team members to create high-quality technical illustrations and 3D interactive experiences within their fields.
3. CATIA Is Versatile and Flexible
CATIA's platform is versatile and flexible, allowing you to customize your package to suit your company's specific design and manufacturing needs. Dassault Systèmes offers dozens of add-ons and modules that you can use in adjunct with its built-in standard features to increase functionality.
A few popular add-ons and adjunct programs from Dassault Systèmes include:
Dymola
CATIA Composer
Electre
Catelectre
SFE Portfolio
Reqtify
Autosar-Builder
CATIA Magic
Controlbuild
STIMULUS
We can help you identify the right CATIA add-ons to optimize your workflow within the CATIA software interface.
4. CATIA Comes in 50+ Different Packages
CATIA is a broad-reaching program offering design and innovation across a range of industries. Because most companies limit their CATIA usage to specialized purposes, such as architectural design or mechanical engineering, Dassault Systèmes offers 50+ specialized packages, or configurations, that each home in on industry-specific features.
A few of these CATIA packages include:
Aero Surface Modeler
Architectural Detail Designer
Class A Expert
Composites Designer
Electrical and Fluids Engineering
Mechanical Engineer
Styling Design
Systems Engineering
You can choose the CATIA configuration that provides the most benefits for your specific organization.
5. CATIA 3DEXPERIENCE Is Available as a Cloud-Based Program and  On-premise installed Program
In 2014, Dassault Systèmes released 3DEXPERIENCE, a cloud-based platform that incorporates product data management (PDM) along with product lifecycle management (PLM).
As the company's first cloud-capable program, 3DEXPERIENCE enables professionals across an organization to collaborate on design and manufacturing without needing to install CATIA on their individual computers. The cloud-based nature of the program also allows for seamless collaboration in real-time.
6. CATIA Is Popular Among Large OEMs
CATIA's innovation and technicalities are evidenced in its widespread use among some of the world's largest, most well-known Original Equipment Manufacturers (OEMs). The following OEM and automotive companies use CATIA daily throughout their design and manufacturing processes:
Audi
Bentley Motors Limited
BMW
Boeing
Chrysler
Fiat
Ford
Hyundai
Porsche
Toyota
Volkswagen
Volvo
And more
CATIA's popularity across these highly successful companies allows manufacturers and engineers worldwide to trust in this software's powerful capacity and performance.
7. CATIA Provides a Comprehensive Solution, From Industrial Design to Class A Surfacing.
CATIA's versatility across a range of industries and job fields is unmatched among PLM software. The program provides the best solutions for complete shape designing, styling, and surfacing workflows in sectors ranging from industrial design to Class A surfacing.
The suite acts as an all-in-one solution, preventing your team from needing to learn several interfaces and programs to complete the product development lifecycle. Instead, focusing time, energy, and training on the CATIA software alone improves efficiency and mastery within the CATIA interface.
8. CATIA Accelerates the Engineering Process by 30% To 50%
CATIA's innovative solutions, smooth interface, extensive toolset, and numerous functionalities allow the program to accelerate engineering processes by anywhere from 30% to 50%. The software takes much of the burden out of the project lifecycle, removing mundane, remote design tasks and streamlining sketching and 3D rendering.
Speeding up design, modeling, manufacturing, and development processes allows your company to begin delegating more time to your most essential tasks, improving performance, speed, and overall profits as a result.
9. CATIA Gives a Complete Definition of Modeling, Simulation, Verification, and Business Process Management
CATIA allows for effective, comprehensive business process management within a range of industries. The program provides detailed insight into modeling, simulation, and verification within the greater process management discipline, allowing your higher-ups to analyze design processes and improve efficiency.
10. CATIA Enables Object Simulation Through a 3D Digital Mock-Up
If your organization does not currently utilize object simulation within your manufacturing processes, you may be wasting time and money that you could be delegating to other functions.
CATIA allows for enhanced object simulation through 3D digital mock-ups of products and objects. For example, you can import 2D sketches into the software and render them as three-dimensional images without having to re-sketch them in the 3D platform.
Being able to create 3D mock-ups enables your team to share complex design ideas across departments before transitioning them to production and development. Keeping everyone within your organization on the same page about designs produces a more seamless workflow and greater success throughout your PLM process.
11. CATIA Allows for Offline Design Modifications
CATIA's new "design anytime and design anywhere" feature lets users capture and send design modifications offline to other team members. Your design team can utilize this feature to create quick designs on the go, while traveling, out in the field, or anywhere that they may not have access to their desktop or internet connection.
CATIA's offline capabilities allow design modifications to remain secure within the CATIA database without needing internet access, ensuring that any changes do not disappear while offline.
12. CATIA Provides a Cohesive, Productive 3D Design Environment
Finally, CATIA offers a productive design environment that facilitates collaboration and efficiency between departments and professionals. Your designers can work with stakeholders to share designs, discuss product modeling, modify existing mock-ups, and communicate ideas.
CATIA's tools and processes range from simple to complex, but working within the newer 3DEXPERIENCE platform allows your organization to collaborate seamlessly with professionals who may not use CATIA every day. Similarly, departments and stakeholders who simply need to view designs without making modifications can easily access the platform through the cloud.
Altogether, CATIA makes it easier and more effective to share designs and ideas across various teams.
Contact Us Today
At 4D Systems, we strive to provide organizations with the most innovative, strategic automation solutions for their specific business processes. With a focus on the automotive, government, oil and gas, and medical industries, our company is committed to providing the best solutions to maximize efficiency and improve profitability through a more streamlined workflow.
CATIA is one of the most innovative Computer-Aided Design solutions we offer to clients every day. As experts in this versatile program, we are prepared to inform you about the benefits CATIA can provide for your workflow and help you determine if CATIA is the right software suite for your company.
CATIA could be the perfect CAD solution to enhance and optimize design and manufacturing workflow within your company. If you're interested in learning more about CATIA and the other automation solutions we provide, please contact 4D Systems today at 800-380-9165 or email us at [email protected].