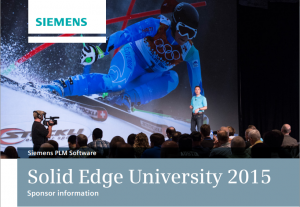 Registration is now open for this year's annual event taking place October 26th to the 28th in Cincinnati, Ohio. Whether you're a new or experienced Solid Edge user, Siemens' Solid Edge University can help you improve your productivity and expand your skills. As an attendee you'll have access to other Solid Edge users from around the world, as well as the opportunity to meet with the VP of Development for Mainstream Engineering and the Solid Edge development and support teams.
Session topics include the following:
Solid Edge ST8 Overview
Part and Sheet Metal Modeling
Assembly Design
Synchronous and Ordered Modeling
Importing Models for Editing
Drafting
Solid Edge Simulation
Solid Edge Manufacturing
Data Management
Productivity Tips and Tricks
Customer Successes
You can get even more out of your experience by becoming a session presenter. If you are experienced with Solid Edge this is an excellent opportunity to share your unique perspectives and knowledge with the community. You can submit an abstract of your presentation today by clicking here.
Siemens encourages companies with software applications that complement Solid Edge to sponsor the event and benefit from rigorous marketing campaigns executed by both Siemens PLM Software and their global network. For more information about sponsorship opportunities, please click here.
Interested attendees can participate in optional workshops offered in advance of the main event. Developer Day will teach you how to increase your productivity by creating your own Solid Edge Apps. At the Design Management Workshop you can learn about the data management capabilities of Solid Edge SP and see examples of best practice implementations.
Are you planning to attend Solid Edge University 2015? Leave a comment below.